More exciting news on the new book front! Random House's Listening Library will publish the audio version of Charmed Deception.
I'm super, ultra excited about this, because Listening Library and reader Mandy Williams did such a great job with the audio version of The False Princess. I still remember the thrill of getting the demos from their proposed readers—as soon as I heard Mandy read I was like, "OMG–this is it!" I don't know yet who will read for Charmed Deception, but I know whoever does will be likewise awesome.
In other news, the mascot dogs have adjusted to their recent doggy world upheaval with flying colors. For 10 years, they had their own futon in the sunroom; it was the one piece of furniture that they were allowed on. Unfortunately, it took up a lot of space and basically made that room useless for anything else. I finally decided that having an entire room of the house devoted to the mascots was problematic. (Ok, yes, this did have a little something to do with the fact that I bought two new bookcases at a garage sale and had nowhere to put them. Priorities must be set.) So the futon was removed and two plush doggy beds were purchased.
I was really nervous about this, mainly for Zuul's sake. He is a dog of Nervous Tempermant, and the futon had been His Spot, so I thought he might come unglued at losing it. But from all appearances, he's decided that his new bed is the best thing ever. Probably because, unlike the futon, it can move. He's learned to ask for it, so it moves from the sunroom to the living room to the bedroom on command. It's the Amazing Migratory Bed.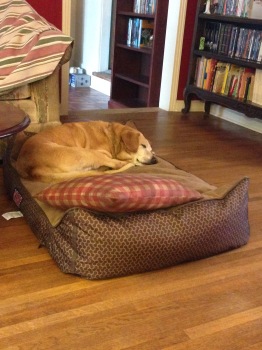 Nemo does not like the Amazing Migratory Bed, which is too plushy for him, and refuses to sleep on his own slightly less plushy bed unless it is in its spot at the foot of my bed. So Nemo's bed does not migrate. Zuul, however, has also decided he likes Nemo's bed in addition to the Amazing Migratory Bed, and he has to be shooed off his take-over attempts on a regular basis. I leave you with pictorial evidence of one of his incursions.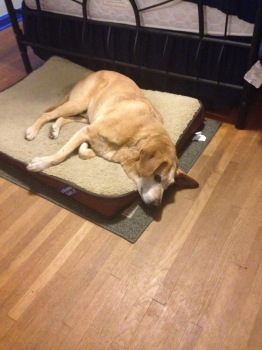 So I've been sitting on some exciting news for a while, and today's the day I finally get to share it. I'm super excited and kind of nervous and so I'm just going spill it quickly.
I have a new book coming out! 
*grins wildly*
*flops over in excitement*
Charmed Deception will be published by Egmont USA on October 27th, 2015. Here's the cover copy:
Sable Wildcross, the sixteen-year-old daughter of a powerful wizard, chafes against the restrictions that keep a highborn lady in her place, limiting her life to one of tea parties and balls. She wants more, but she hardly even knows what more means in her country, where women are not allowed to use magic on pain of imprisonment or death. The only real problem Sable has ever faced is her health: to protect her weak heart she must never remove a necklace her father has charmed to protect her.

Late one night, Sable sees a ghostly figure—a beautiful, transparent girl her own age. Who is this girl—what is this girl? And how can she know something about Sable that Sable herself does not even know—news that will change everything Sable has been raised to believe about herself and her world?
Charmed Deception is a new YA fantasy novel in a new world, and contains scenes of
Magic
Masked figures
Kissing
Near kissing
Clandestine nighttime meetings
Secrets
Supercilious barons
More secrets
Ballroom flirtations
Danger
The flaunting of social conventions
Hidden identities
Did I mention magic and kissing and more danger?
I'm really, really excited about this new book and these new characters. I'll be posting more information about Charmed Deception, teasers from the book, and info about ARC giveaways in the months until publication, both here and on my Tumblr and Twitter, so keep checking back!